9 Steps to Creating a Successful Mailshot Campaign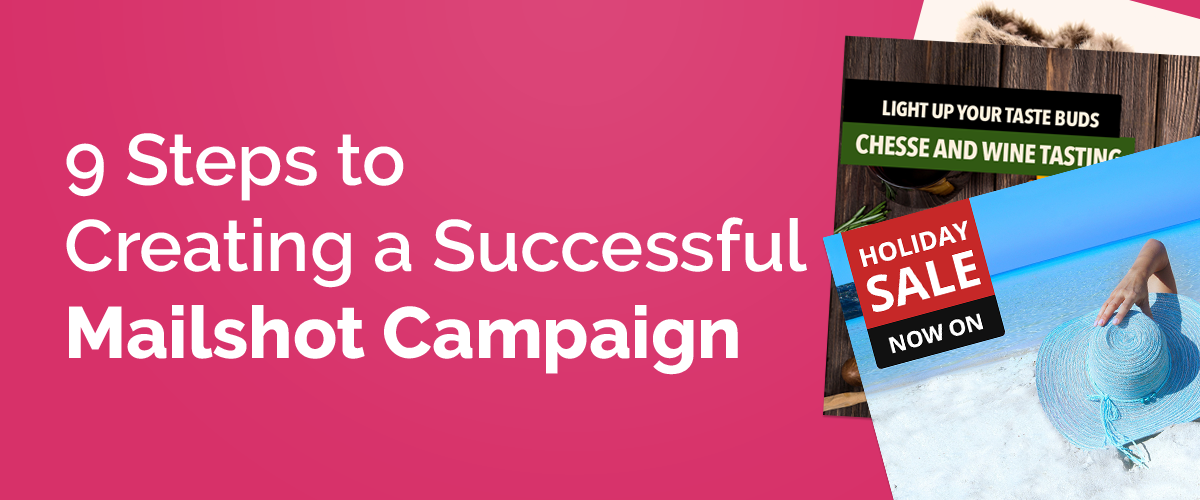 In this post, I'll show you how to create an incredibly effective mailshot campaign for your business.
These are the 9 essential steps that we use when putting together our own campaigns, as well as some important tips for maximising your results from the mailshot.
By the end of this guide you will have a solid understanding of exactly how to run your campaign, the options available, and the tricks you can apply to boost your ROI and get more responses.
Let's jump right in.
1. The Mailing List
We'll started with the mailing list because it's probably the most important component and the most overlooked part of a mailshot campaign. You need to decide who you are sending to, what are their addresses, and who to include/exclude.
The mailing list may be made up of your existing customers or leads. It may also target a list that you've purchased or created (Such as all travel business owners in London).
Where to get the list?
For existing customers, you will already have this in your database. (For example, if you have an online store, you will export your customers names and postal addresses)
If you don't have a list, you may want to find a list broker help you find a list.
Clean the list
Depending how you sourced your list. It may not be suitable right away. For example, if you are trusting user entered data, there may be some gibberish and invalid addresses in there. Make sure you remove these.
Filtering the list
Often you will not want to send the mailshot to the entire list. You may want to target specific messages to specific people. For example, if you are sending a mailshot to existing customers. You may only want to send a mailshot to customers who haven't purchased from you in over 3 months.
Think about how you can segment your list, who is most likely to convert and get a response?
2. Choosing the right format
When it comes to sending mailshots, you have plenty of options. Leaflets, postcards, foldouts, self-mailers, or any custom wacky shape you can imagine.
Each format has its own advantages, and depending on your goals, time and budget.
For most people, an A5 flyer or postcard is the most effective on balance for your first campaign, but here is a breakdown of other options available:
A5/A6 Leaflets & Postcards
These are the most common formats and the most cost effective. A5 is generally preferred as it doesn't cost much extra but it's bigger size grabs more attention. Ideally you want to use paper which is thick and heavy (Recommended 300/gsm+)
Enveloped Letters
Sending letters are often a guaranteed way to get attention as everyone opens their letters as they are often very important.
Make sure if possible, you include the first name of the recipient (instead of "to the occupier / to whom this may concern" as this mail is much more likely to be ignored.
Self-mailers
Self-mailers are mailshots in which the entire design and address is printed and then folded on itself. As in the example bellow. They can be cost effective and can give you more space to communicate your message.
Custom
Often some of the most effective and memorable direct mail pieces are non-standard. They are customised into different shapes or different materials. I highly recommend taking a look at this list of incredibly creative direct mail pieces for inspiration on how to create a custom direct mail piece.
3. The Messaging (Text on the mailshot)
Regardless of the format you choose, don't have much space to communicate your message. This is arguably the most important part of the campaign as you only have a glance to grab your readers attention, and then 15 seconds to communicate most of your message.
The headline
Let's start with the headline. This is the few words which will be seen first on your mailshot, and for a lot of people, the only thing they read. For this reason, it's very important that your headline works effectively.
Use a short headline, which isn't confusing, and gives the reader a vague idea of what the card is about.
The main body
After you've got the attention of the reader with the headline (and the creative design). You should explain your offer and value proposition clearly.
On the postcard or leaflet you would typically do this on the reverse side
4. The Design
The creative is an essential part of the design, and often the part that requires most work to get it right.
Your design should be influenced by the following 3 things:

To grab attention
To convey a message of relevance
To match your brand
Let's break down each of those things:
Design to grab attention
The goal of your design should be to grab the reader's attention when they're flicking through the mail.
This can be done by using shocking, surprising, or funny imagery. Combined with bright catchy colours.
Relevant images
When someone glances at the mail, they should have a good idea of what it's about. So, if you're sending real estate mail, use a picture of a home. Don't try to be too clever otherwise the reader will ignore you.
Brand
Direct mail is one of the most effective ways to build brand. This is because your message is much more likely to be remembered when people touch and feel it. Take this an opportunity to make your branding clear.
5. The Offer (that can't be refused!)
Your mailshot should nearly always include an offer. This is what really pushes the recipient over the line to take action.
Try to come up with an offer which is genuinely valuable. Something that would make you say "Wow, this is actually a great deal". What this is will depend on your business.
6. The call-to-action
So, you've created an awesome attention-grabbing piece of direct mail. You've convinced the reader of the benefits, but then! (Gasp) They put it to the mail to the side and forget about it.
You need to direct the reader to the next by explicitly telling them. For example, adding a message that says:
"Call us now on 0208 123 4567 to book an appointment"
"Visit the website to learn more"
"Scan the QR Code do redeem your offer"
For more info on direct mail call to actions, see this.
7. Production & Fulfilment
The best option for producing and delivering your direct mail depends on a few factors. But generally, you have these options:
DIY
Doing everything yourself is the most time consuming, but can be worth it if you already have print facilities and a royal mail business account.
Direct Mail Platform
If sending standardised direct mail (e.g. a standard size leaflet or postcard) then the cheapest and simplest option is to use Postary. You can upload or design your mail online, import your contacts and have the cards printed and sent on your behalf.
You are also able to dynamically personalise each card to make them feel more personal. As well as tracking, and automation.
Mailing house + Fulfilment
When you have specific requirements for your mail such as unique shapes, foldouts, handwriting, etc. Then you should search for a local mailing house. This will be expensive at smaller volumes.
8. Timing
Most household mail is received on Monday (because the backlog from undelivered mail on Sunday). Avoid your mail landing on Monday because it will be the day where you get the least attention.
Tuesday – Thursday are the best days for the mail to land on the door.
For B2B direct mail avoid mail being delivered on Fridays.
Tip: Check the weather! Especially when sending out direct mail which is open (no in an envelope) avoid rainy days as the mail can get wet and damaged more easily. This can create a bad impression of your brand.
9. Tracking and Measuring Results
Like all marketing, you should be tracking and measuring the performance of your campaigns to see what works. With direct mail you need to plan this a little bit.
We have a full list of different ways to track your direct mail campaigns here.
But in summary you can:
Use QR Codes
Unique Offer codes
Trackable URLs
Run the campaign in isolation
Tracking phone numbers
Surveys
Tip: Postary makes it easy to add track able QR Codes and tracking URLs to your postcards.
Using Postary
Postary is an online direct mail service for sending direct mail online. Sign up to start sending your first campaign today.