Cost Effective Direct Mail: How Much Does It Cost?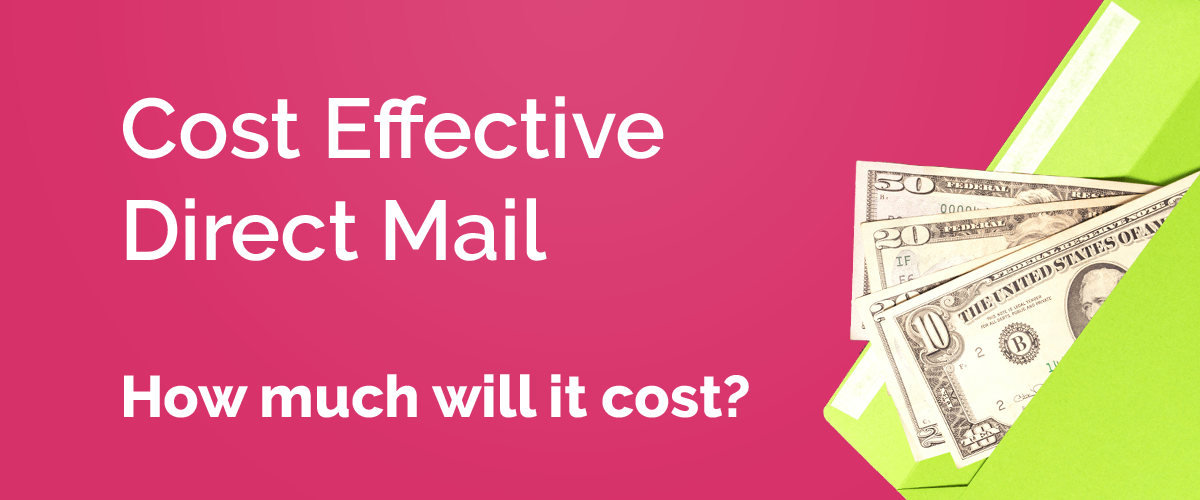 Although the cost of running a direct mail campaign depends on a lot of variables, it will typically cost between £0.50 – £0.90 ($0.65 – $1.17 USD) per item (to print and post standard direct mail formats). Designing the artwork can have an upfront cost of £0 – 500.
This cost can increase to over £6 for handwritten direct mail and custom format direct mail (such as gift boxes).
In this post I'm going to breakdown the costs involved in running a direct mail campaign, where you can make the most savings, and where you should be reducing costs.
There are other costs as we will see such as purchasing mailing lists if running customer acquisition campaigns.
Standard Format Costs
Sending Flyers, Postcards, and A4 letters are the cheapest form of direct mail.
If you print them yourself and send with Royal Mail 2nd class post + the production cost of print (which when you take into account standard card + inkjet inks will cost about £0.71-£0.81 for small and medium batch sizes of up to 100 cards.
Using an online service like Postary to create and send your mail will get you much cheaper rates as they are able obtain cheaper print and delivery rates that are passed down to you. This will be £0.64 or less for everything.
How much are Designers for Direct Mail?
Designing a direct mail postcard can be as cheap or as expensive as you like. We advise that you don't spend more than 25% of the total cost of your mailing on design or production of your mail.
Hiring a designer on Upwork/PPH/Fiverr/99 Designs
If you don't have any in-house designer, using Upwork, People Per Hour, Fiverr, or 99 designs will let you find freelance designers. You should be able to get a solid design for about £300 for standard A5 Postcards.
The Free Design Service
You can currently take advantage of the Free professional design service offered by Postary when you send 300 cards or more. This will not only allow you to send beautifully designed cards, but also designs which use proven best practices for layout and driving action.
Mailing Lists
If you're sending to an existing list of customer addresses, then good news. This won't cost you a penny (zilch).
If you are running an acquisition campaign (to find new customers), then you'll need a list. You could create this yourself, or you could purchase this list from a list broker. You'll typically spend £0.04 – £0.30 per record when purchasing a list.
Delivery costs (Domestic + International)
The cost of sending your campaign largely depends on which country you are sending too, and where you are sending from.
In the UK International pricing with royal mail will cost £1.35 at the time of writing. Sending from different countries, to different destinations with different services will vary considerably, so it's best to check for your specific needs.
Bespoke formats
It is much harder to calculate the cost of custom direct mail because the requirements vary so considerably. This will require your own research to determine production costs, but the delivery rates will be a similar price range with an additional production cost.